A few weeks ago, Yuh Bank published its app YUH TWINT and it is great news!
So far the only neobank to have an application TWINT was CSX. Other neobanks such as Neon and Zak use the much less convenient TWINT Prepaid app.
With the addition of this new feature, Yuh Bank takes the lead in our ranking of the best neobanks in Switzerland 🙌
Don't have a YUH account yet?
Use our referral code to open your free YUH Bank account!
Use the promo code
YUHNEO
before
31 October 2023
to
receive CHF 50 Trading Credits + CHF 4 (250 SWQ) for FREE
🙌
Get CHF 54 Free with YUH ➡️
How to use Yuh TWINT
The Yuh TWINT app is available in the App store and on Google Play , it is perfectly integrated into your Yuh account, which allows you to pay for purchases and send or receive money with ease.
The installation is very simple and guided by the menus:
Update the app Yuh
Download the Yuh TWINT app with your smartphone.
Register in the new Yuh TWINT app
Confirm the initial registration with "Yes, I'm new to Yuh Twint".
Enter your mobile number
Enter the activation code sent to the mobile phone by SMS.
The Yuh TWINT app is protected by a PIN code. Optionally, TouchID or FaceID can be activated.
With personal registration for the Yuh app, account linking takes place in the 5th step. The account is predefined.
In the final steps up to number 8, various message and offer options can be configured (this can always be adjusted later).
PLEASE NOTE: You can only receive money on one TWINT account, remember to set this option if you want Yuh TWINT to be your main TWINT.
That's it, you are ready to use Yuh TWINT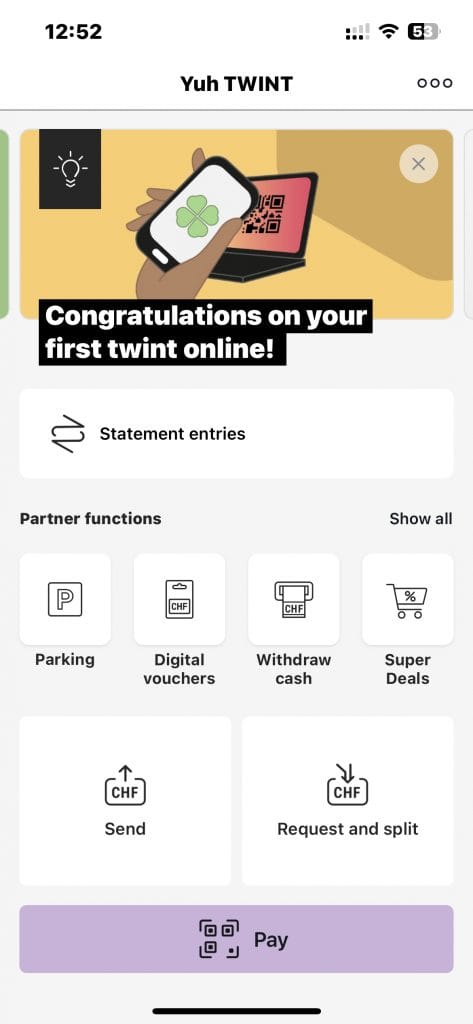 Frequently asked questions about Yuh TWINT
Are there Swissqoins with payment by the Yuh Twint app?
No. The Swissqoins remain the same:
Debit Card Transaction
Yuh Trade
Sponsorship
Anyone wishing to continue benefiting from the Swissqoin referral program can use the Yuh Mastercard multi-currency debit card.
Can I use other TWINT apps in addition to Yuh?
Yes, it is possible without restriction to use several TWINT apps from different banks at the same time on your smartphone.
However, there is a small restriction for the "Receive money" function. Only one TWINT app can be selected to receive money. The last installed TWINT app is always activated to receive money. However, this can be adjusted in the app settings (the procedure differs depending on the TWINT app).
How to unlock Twint?
The PIN code can easily be reset independently. Open the TWINT app and tap "Forgot your TWINT PIN?" ".
The Yuh app is opened and confirmed with Yuh's personal record. Immediately afterwards, a password (security PIN code) is sent to the mobile number stored with Yuh.
Enter the password and reset the PIN code.