Zak by Bank Cler is among those neobanks that openly publish their roadmap of features. That's why we knew for couple of months that they would release soon a new Visa Debit card.
That's now official: Zak has just released their new Visa Debit card and we've just received it by mail.
The card is delivered by standard mail and comes with a brochure that explains the benefits of this new Visa Debit card.
The next day you receive a second mail with the QR code the VisecaOne app (see below).
Zak: a Swiss neobanks for Swiss residents
In our complete test and review of the Zak account, we explain in details the requirements to open a free bank account with Zak.
It's important to remind that a Zak account can only be opened is you are Swiss resident. Also note that all information in this article are for Swiss domiciled people.
This commercial policy is shared by most Swiss neobanks: Neon, Yapeal and CSX only accept Swiss residents as well.
Cross-border commuters and non-residents looking for a Swiss bank account in CHF with a Swiss IBAN should signup with Yuh bank that accept residents from Austria, France, Germany and Italy to open a bank account with them.
Zak Visa Debit: a unique card
This card replaces all previous ones offered by Zak. It becomes a unique card for everything.
There is no more need to manage a Maestro or a virtual Visa prepaid, this new Visa Debit is linked to your Zak account and can automatically use your available balance, like a Mastro card, and with the benefits of a Visa card.
The other good news: this card is free with the Zak standard plan and with Zak Plus. No monthly fee and no delivery fee!
With the launch of this Visa Debit, Zak competes more directly with other Swiss neobanks Neon, Yuh, Yapeal and CSX that already offer either a Visa Debit or Debit MasterCard.
Zak Visa Debit card: a card for young and not so young people
Zak was already very well positioned against other Swiss neobanks and adding a Visa Debit is reinforcing their offer:
Zak Visa Debit card is free
no monthly fee
free cash withdrawals at Bank Cler ATMs, or 2 CHF per cash withdrawal in Switzrerland (like CSX by Crédit Suisse)
no fee on foreign payments with the card
from 15-year-old, instead of 18 with Neon and Yuh Banque.
By targeting teenagers from 15 to 18, Zak differentiates itself from other neobanks that accept 18+ customers.
Apart from Bank Cler Zak, only CSX Young (12-25) and Yapeal – that just launched Yapini (for kids aged 7+) – target kids and teenagers. But Yapini is more a kids' account and they apply 2 CHF per cash withdrawal in Switzerland and fees on foreign card payments.
Zak Visa Debit card: for online purchase or aboard
Before you needed to add a Visa prepaid to your Zak account, then top-up to be able to do online purchases. That was not ideal since a part of your balance was "locked" with the Prepaid card account.
It's not needed anymore: just take the Visa Debit, confirm the payment by 3D Secure and it's done.
When launching this new Visa Debit, Zak decided to drop the 1.5 CHF fee on foreign payments, making online purchases more convenient: it doesn't matter if you purchase a new pair of shoes in Germany or in Switzerland, there are no extra fees.
The Zak Visa Debit card works with the VisecaOne app
To manage your Zak Visa Debit card, you need to download the VisecaOne app.
Our first reaction "hmm, really? another app?", but this is the app from Viseca, and there are great chances that you already use this app to manage other Visa or Mastercard cards.
The Viseca app also has the advantage of instantly adding new features to your Zak Visa Debit card: 3D Secure, regional settings, enable/disable contactless payments and more.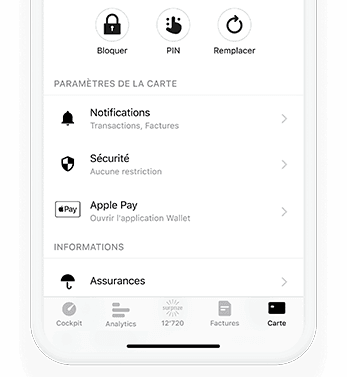 Our opinion about the new Zak Visa Debit card
Until recently, Zak was the only neobank to continue to offer a Maestro card, long favoured in Switzerland.
The new trend is to replace Maestro cards with Visa Debit or Debit MasterCard cards, and large Swiss bank also follow this trend.
Well known neobanks like N26 and Revolut launched with either a Visa Debit or Debit MasterCard and Zak has joined them by replacing their "old" cards with this new Visa Debit card.
It's now easier to compare Zak with Neon for example: one offers a Visa Debit while the other offers a Debit MasterCard, both neobanks are free, but Neon charge 10 CHF  or the 1st delivery of the Debit MasterCard.
For a more in-depth comparison, you can read Which is the Best Swiss Mobile Bank in Switzerland where we compare Swiss  neobanks with 18 criteria. It appears that Zak takes the lead!
Test and decide for yourself
The good thing with neobanks is that you can test for free by simply opening a bank account from your sofa en 15 minutes.
It's a risk-free test that will help you to decide for yourself which neobank is good for you.
Important: Make sure you enter the code during the opening process to make sure you receive your 50 CHF.

Please share you comments and experience with Zak in the comment section.